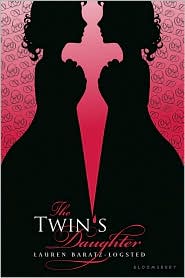 The Twin's Daughter by Lauren Bratz-Logsted
Lucy Sexton had been leading a normal life in Victorian England. Her parents doted on her and she wanted for nothing. Sure, her immediate family was pretty much her only family, with the exception of Father's parents and sister, spinster Aunt Martha. But still, life was good; life was normal. Until 13-year-old Lucy happened to answer the door when someone knocked. That someone turned out to be Mother, if Mother had grown up poor and with no advantages.
Aunt Helen and Mother were separated at birth, and, while Helen grew up in an orphanage, knowing she was a twin, Mother had no idea. Lucy's family quickly welcomes Helen into their midst, and slowly Helen becomes accustomed to the new society she's living in, until the day comes when no one can tell which sister is which. Even still, Lucy is happier than she's ever been, until strange and terrible things begin to happen, and Lucy begins to question if Aunt Helen's motives are really as honorable as she claims.
This was an excellent story! Typically, I prefer my books to take place in modern times or future dystopian times, but I had no problems falling into Victorian England. There are twists and turns all over the place in this book. I went into this reading assuming I knew what was going to happen, but the ending was so far removed from how I thought the story would go that my head was spinning. It's definitely worth a read, and I was really impressed with one of Lauren's earlier titles, Crazy, which was about as different from this book as you could get. Definitely putting her other titles on my to-read list!

Enjoy your reading!
Christi