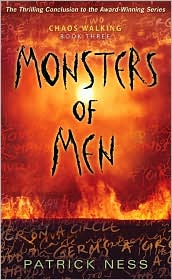 Monsters of Men (Chaos Walking #3) by Patrick Ness, 2010

This is NOT a review, because I cannot for the life of me figure out how I'll review this without giving too much away.
If you've read The Knife of Never Letting Go and The Ask and the Answer, but not Monsters of Men, stop what you're doing and Go. Read. It. Now.
Monsters of Men is what the final book of a trilogy should be. Almost every freakin' chapter was a cliff hanger. It was horrible; it was incredible. Seriously, I cannot believe I waited this long to read it. I actually splurged for the full price eBook version because I got tired of waiting for my library to get it. And then of course I started reading it over Halloween weekend, so I just finished it up not too long ago (if I'd started any other weekend, I would've finished it much faster!).
And if you haven't read any of the Chaos Walking books, well, you need to.
Enjoy your reading!
Christi